All vehicles are subject to the typical wear and tear, and trucks are no exception. Though common, concerns such as defective parts or contaminated fuel can cause your truck to fail or not work properly if they are neglected for a long period of time. Thus, you should be keeping up with regular maintenance and be able to recognize signs that your truck needs repair.
Here is some information about the importance of truck maintenance and repair:
Truck Maintenance Schedule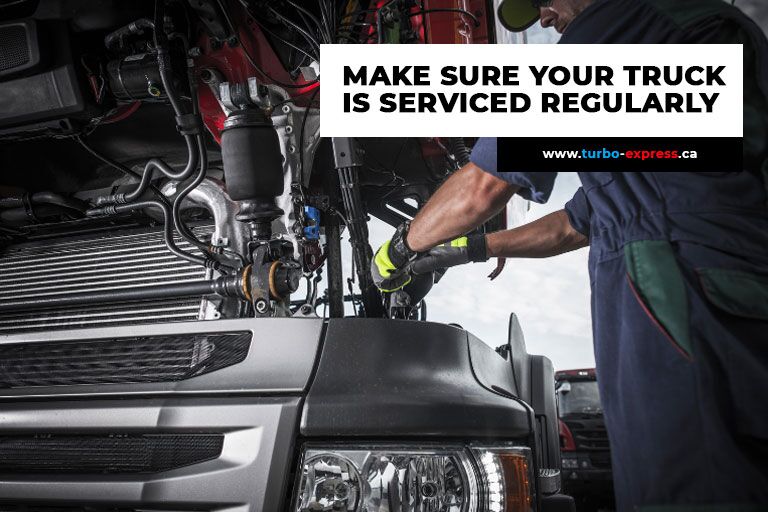 A maintenance schedule can help you make sure your equipment is serviced on a regular basis, preventing potential problems with your vehicle. Here are some tips when creating a truck maintenance schedule.
Daily Trip Checks
Truck drivers should complete pre-trip inspections daily to make sure their vehicles are safe and operating properly before taking them on the road. You should inspect a number of items regularly, such as tires, fluids, electrical systems, and brakes. Concerns that can lead to problems like tire blowouts and brake failure can easily be resolved with a pre-trip inspection checklist.
Seasonal Truck Maintenance
Extreme weather during the winter and summer months can create particular challenges for commercial vehicles. During the summer, when the weather is usually hot, you should devote your major maintenance efforts to the cooling system, which will be working extra hard during that time. Also, check your tires weekly, as expanding hot air can cause changes in tire pressure. During the winter, focus on the parts of the vehicle that can be affected by cold temperatures, snow, and ice. This should include stocking rigs with essential safety parts and gear in case of extreme conditions. For diesel engines, taking extra precautions in the winter can extend the longevity of certain components and systems.
Truck Maintenance Checklist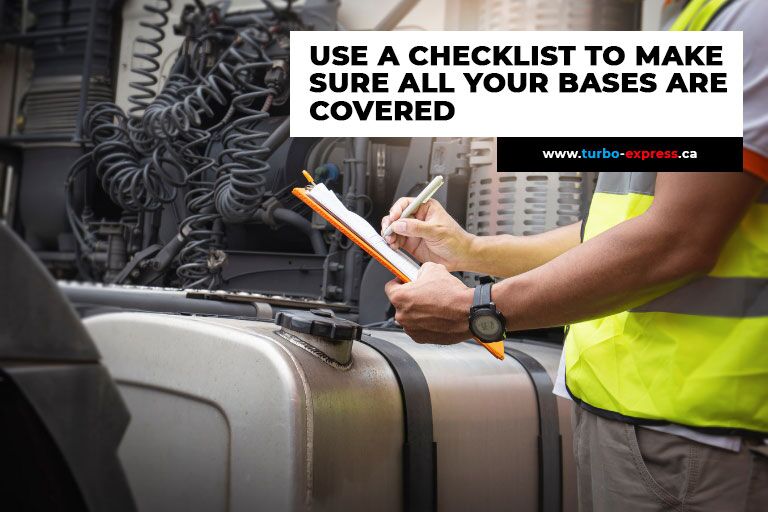 So what is the importance of vehicle maintenance? The ability to maintain equipment can be the difference between the longevity or early failure of your vehicle and, in some cases, the difference between life and death. Here are some truck maintenance tips to ensure that your vehicle remains in proper condition:
Brakes
Truck braking is extremely important, as the ability to stop is a big part of highway safety. Before each trip, check for the basics, such as loose and hanging hoses or air leaks. However, you should also be checking your brakes once or twice a week to make sure the equipment is working the way it should be. You may need to hire a professional, as wheel-end hardware is mainly mechanical. In terms of preventive maintenance, someone more unfamiliar with the system should pay attention to the calipers, guide pins, and brake pad wear. Additionally, catching maintenance problems early is crucial to the performance and longevity of your brakes. Dragging brakes are the main concern for drum brakes while sticking to a PM schedule is important for air discs. Additionally, vehicles built to the federal reduced stopping distance (RSD) standard need to have RSD-rated replacement materials, including brake shoes.
Wheel-End Inspection
Here are some wheel maintenance tips you can do once or twice a week without even having to remove the wheel:
Check air or disc brakes to make sure there are no cracks

Check guide pin and tappet boots to make sure there are no cracks or tears that might let moisture in

Check for lining wear and cracks on drum brakes that do not have dust shields

Examine rotors and drums for overheating linings or dragging brakes. Signs include leopard-spotted patterns on drums or grooving on-air disc brake rotors.

If you have a brake that's misaligned, don't adjust the automatic slack adjusters automatically.

Keep an eye out for uneven friction wear on drum brakes, which can be a sign that the brake shoe is deformed.
Controls And Electronics
All drivers must be knowledgeable about proper truck maintenance and how to use life-saving technology properly. Here are some tips:
External Components
Check the forward-facing radar sensor on vehicles with advanced safety systems to make sure its field is free of debris as well as other obstructions

Familiarize yourself with the procedure recommended for lining up a forward-facing radar sensor properly

Internal Components
Know how to address the vehicle systems' blinking light fault codes. Antilock braking system lights will warn of problems with wheel speed sensors and similar components.
Tires
As tires are commonly the second greatest operating expense (fuel being the first), it's important to know how to maximize performance based on operational factors. Here are several factors that should be checked daily:
Maintain Proper Tire Inflation
Maintaining proper inflation is essential to a good tread footprint as well as tread wear, as both under-and-over-inflation have a negative impact. Take the actual weight into account by axle and use a load/inflation table. However, even if you're using an automatic inflation system, make sure you're still checking your inflation pressure regularly. Don't assume it's perfect, particularly if you have mismatched dual assemblies. Check the tire condition and pressure daily during continuous service, weekly, and before each trip.
Rotate Tires Regularly
Regularly rotating your tires will keep them in good condition longer, especially in areas of irregular tread wear. You should rotate them when they're 50% worn, or earlier if they show signs of irregular wear.
Check For Irregular Wear
It's also important to check the cause of an irregular wear issue. When tires don't wear evenly, fuel economy drops. Additionally, it causes ride disturbances and vibration, eventually reducing mileage and increasing your costs.
Check Total Vehicle Alignment
To keep tire wear even, check the alignment of your vehicle every 80,000 to 100,000 miles or 12 to 18 months.
Diesel Engine Repair For Trucks
Like any other piece of machinery, truck engines will eventually fail and require repairs. You should be on the lookout for any signs that your engine is having issues. Some common concerns may include:
Oxidized Oil

Humidity Reactions

Black Exhaust Smoke

Difficulty Starting

Insufficient Power

Failing Lead-Acid Storage Batteries

Defective Glow Plug

Contaminated Fuel

Higher Compression Ratio

Noise

Improper Weight Viscosity
If you're having diesel engine problems, contact Turbo Express as soon as possible. You should have your engine serviced routinely by our team of expert technicians and diesel engine mechanics, as such issues can quickly turn into major and costly concerns. Looking for truck repair services near you? You can reach us by calling 289-981-7002 or filling out the form on our booking page. If you need a truck repair in Milton, call us!