You Deserve a Top-Rated Truck Service Repair in Detroit!
If you are in a trucking business, there are factors you may inevitably face, like bad weather and road accidents, which can affect your schedule and service. Whether you had an engine problem, fluid leaks, overheating, or any other type of truck breakdown, you must have wished you had a friend nearby to lend you a hand. Being stranded in the middle of the road with no one to turn to in an emergency may be quite stressful.
That is why Turbo Express is here, your reliable partner for truck repair around Detroit, MI!
We understand the impacts of vehicle breakdowns on businesses, so we see to it that you can get back on the road as quickly as possible. We adhere to the highest service standards and guarantee client satisfaction by doing things right the first time.
With our team of highly experienced and trained staff, Turbo Express offers first-rate comprehensive inspections and precise diagnoses. We specialize in remanufacturing and servicing a wide range of parts, which include turbochargers, injectors, and fuel unit pumps, among others.

Our facility is equipped with cutting-edge technology, and we employ the most up-to-date repair technology and the latest OEM specs and equipment to pinpoint the source of the problem and deliver you the best possible solution for any of your truck problems. All injectors are carefully disassembled, cleaned, and reassembled using OEM kits and components.
We provide new and remanufactured turbochargers for light, medium, and heavy-duty cars, as well as buses. Whatever the industry — construction, maritime, automotive, or agriculture — we are more than happy to serve you.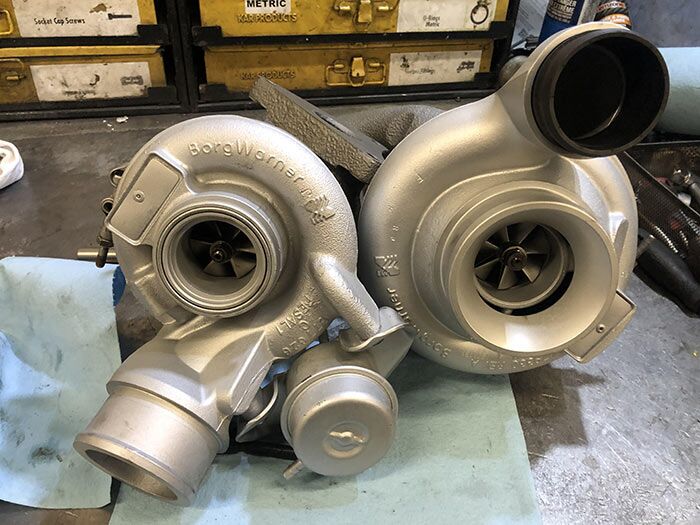 We Are Your Go-to Truck Repair Services in Milton, Ontario
Signs That Your Truck Could Be In Need Of Repairs
Problems can still develop regardless of how well-maintained the car is. If you detect any of the following signs, you might need to bring your vehicle straight into a heavy-duty truck repair company for inspection.
Ignoring the check engine light is a terrible idea and may cost you sooner or later. Take your truck to the nearest truck repair shop as soon as you see it turn on. You'll be able to get it addressed quickly and avoid further issues.
The exhaust smoke can reveal the underlying engine problems of a vehicle. The root of the problem can be diagnosed by simply looking at the colour of the smoke. Black smoke may mean that your truck is burning too much gasoline, while blue smoke suggests an oil leak, and white smoke indicates that coolant is burning.
Leaks can be unsafe for heavy-duty vehicles. Leaks, if left uncontrolled, can cause serious problems. You should have your vehicle inspected and fixed if you observe any kind of liquid flowing from it. Whether it is the transmission fluid, engine oil, coolant, or power steering fluid leaking, it's critical to have it checked by a mechanic as soon as possible.
You should have your truck evaluated by a professional if you find that it is consuming an excessive quantity of fuel while in operation. This could be a sign of a blocked fuel system, damaged air filters or oxygen sensors, or malfunctioning fuel injectors.
When you're on the road, a stalling vehicle can be dangerous. You may lose control of your car, putting you at risk of an accident. If your truck dies unexpectedly while traveling or idling, get to a truck repair facility as soon as possible.
Turn to Turbo Express for Quality Auto Repair Services
Turbo Express provides high-quality repair services and parts at a reasonable price. You never have to worry about your truck's condition while you're on your way. Give us a call at 289-981-7992.